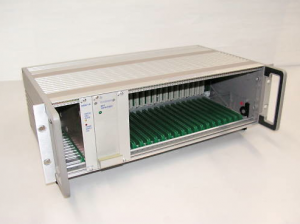 Last time I mentioned I would be using a standard 19-inch rack mounted case to house my machine. Well, I just got one from eBay. It is a used unit but in a very good condition, and fully tested by the seller. The labels in the back indicate it was decommissioned from Deutsche Post. Unfortunately, these things are not cheap. This one I got for 40 euros, and considering the prices of similar cases, it was a bargain.
The case is German manufactured (Hirschmann). It is 3U high, 19-inch wide and weighs several kilos. It has rails to hold 100x160mm eurocards in place and removable legs, so that it can be neatly placed on a table top. It also has a backplane, but I will have to remove it as it has connectors incompatible with my design.
Yet the best thing is it contains a 5V/12 A power unit (the thing on the left had side of the photo with a green led). I just need to find a H15 mating connector like this one to connect to its output, build some sort of adapter to supply my boards, and I have a professional grade 60 watts power supply.
What else on the construction front? As expected the memory board is still in production (BatchPCB indicates it has already been sent for processing in China). I am currently wiring the registers on the main CPU board, and I figure I should finish in a week or two. I will post some photos soon. Then – ALU board wiring, memory board soldering (when it finally arrives) and I will be ready for final assembly of the prototype.